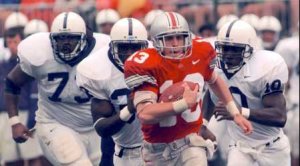 OSU's Chad Cacchio gets some yardage Saturday Sept. 23 against the awful Nittany Lions.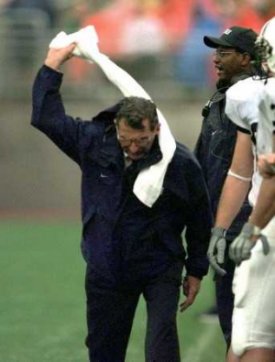 Joe Paterno looks for help in attempting to tie a noose, Saturday Sept. 23 in historic Ohio Stadium.


Essential Links
"D-OH!" I can do better than Joe Pa!


The Mooshhhh Zone celebrates the
4th place BIG TEN Finish!
Fall 2000
Ohio State - in the OUTBACK Bowl. Yuck!! At least it's on Jan. 1 (Sorry, Wildcats.) But now the Buckeyes face stern test - can they beat Tennessee?? Who knows?

Mooshhhh was at the PSU game and saw Chad Cacchio (left) on a big gainer - below that some
stuff, THE MOOSHHHH ZONE POLL. This is on your left as well.

UPDATE: The ligament TORN during a tennis match on July 18, 2000 is healing! Mooshhhh was NOT out action for that long and has quickly regained his mediochre talents! No surgery, the ligaments are growing back!

Are you concerned about him (or not?) Either way, sign the guestbok - I'll reach back out to you.


WHY THE MOOSHHHH ZONE? Dedicated to the creator of this site - this page is meant for the enjoyment of YOU the visitor, whether you are one of my multitudinous family members, friends or just a browser. This is an evolving set of sites (so hard to keep fresh) - but I'm trying! So sign the guestbook, send an e-mail, venture into my weird world... or as it is called here on the internet... the Mooshhhh Zone!


You have joined
other idiots in wasting time on this page.

Demos C. Ioannou
Mooshhhh@bigfoot.com
Madison, WI
Last updated 12/1/2000
You want more?