2002 Course Line-up and Tee Times
Grande Dunes: Friday 12:00 - 12:50
Pawley's Plantation: Saturday 8:03-8:19 F&B
The Thistle: Sunday 12:12-1:12
Heathland: Monday 7:16-7:56

Send Inquiries to:

Demos Ioannou
Mooshhhh@bigfoot.com
Madison, WI
United States

Mick Taylor putts - the OLD GOAT is a great guy!




John Doherty in the condo.




WEATHER CHANNEL!: See what it is like right now in Myrtle Beach!



February 22-25, 2002

THAT'S RIGHT! It is BLUMPEE TIME! The courses are set and you should get those cheap airline tickets NOW! Originally we planned to go to Scotland - but that would have cut the group down to 3 - so instead - the last two days will be a taste of Scotland in the Carolinas.

What is a Blumpee? If you know - you know - if you don't, who cares? Let's just say that it is the premiere tournament for hackers in America. It is also the 10th Blumpee - with the previous 36 rounds always played - no bad weather. Will we make it to 40?

Here's how it works. The Golf package is through Condotels. You pay for a gorgeous condo by the sea, greens fees and golf carts. We have 24 spots. That's 6 condos. You can see more pics in the gallery! The cost will be (approx.) $520 for 3 night stays and $550 for 4 night stays. If you played these courses on your own - you'd pay about that much just for the golf.

The timing and location of the courses are determined by location (Friday and Mondays courses are close to the airport.) Theoretically - you can fly in Friday morning - but that means NO DELAYS. The savvy Blumpist arrives the Thursday night before golf and socializes with the rest of the guys. That is the 4 night package. Mondays we always play the earliest tee times to allow ample time to catch flights. This year, Sunday's golf returns to a later hour to accomodate church-goers and Saturday-night partying. Although we ARE returning to North Carolina to golf on Sunday. (I can already hear the bitching.)

Any questions? Write to Hamish - care of Mooshhhh!

Ready to make your reservation?? Call 1-800-777-0846 and plop down $150 (totally refundable) for group #13631 - and remember - once we fill 24 spots that's it. First come, first served.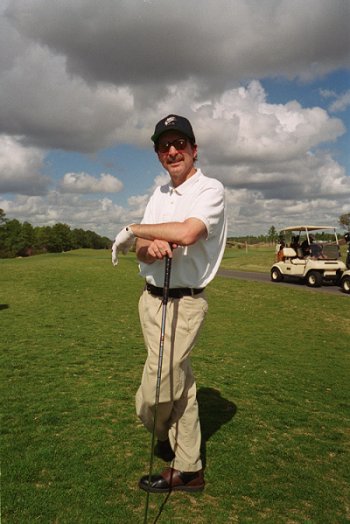 Here you see Gary McGriff, 5-time Blumpee Champion. Can you beat him? He is about a 10 handicap.
The Gallery: Pictures from past Blumpee Opens. Sorry - no 2001 pics (Scott, Dave!)
TRAVELOCITY: Flights from O'Hare STILL under $200 to Myrtle Beach